6 Best POS Payment Solutions For Small Businesses

When it comes to running a successful business, there are a variety of factors to consider like best POS Payment Solutions. From choosing the right location to stocking the right inventory, every small business has its own unique requirements. Fortunately, there are a variety of payment solutions available to small businesses, regardless of their needs or location. In this article, we look at the top 6 POS payment solutions for small businesses.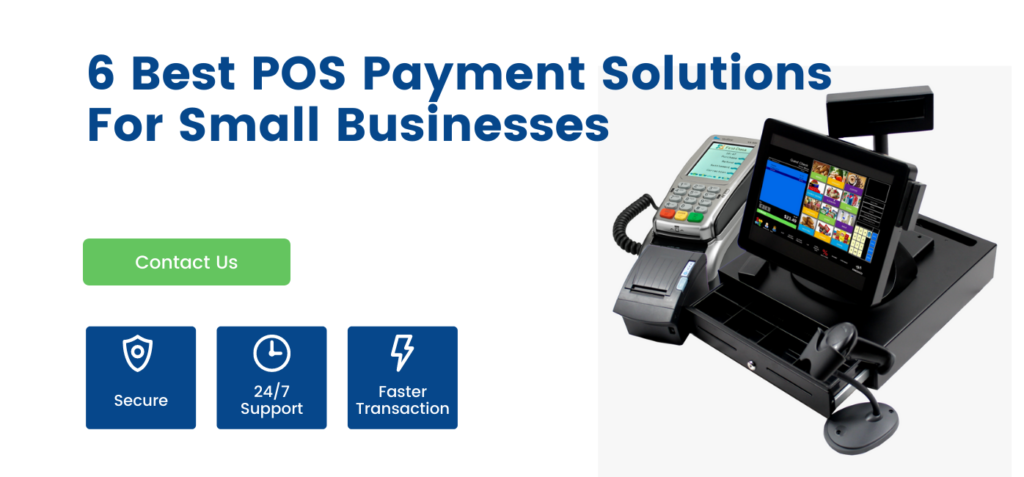 Square
Square is a payment solution that allows small businesses to process credit card transactions on the go. The Square system works with both iPhones and iPads and provides an easy-to-use interface for your customers. It also supports mobile processing of form-based payments in addition to the ability to process standard cash or check payments.
PayPal
PayPal offers a wide range of solutions for small businesses, including PayPal Here and PayPal Business. The platform allows users to accept payments from customers with any credit card or bank account and is ideal for businesses that want a convenient and secure way to receive payment. For example, if you sell goods on eBay, it's possible to use PayPal as a payment option.
Stripe
Stripe is one of the most popular payment solutions for small businesses. It's a secure, user-friendly payment service that allows multiple parties to send and receive payments from internet-connected devices. What makes Stripe so attractive to business owners is its simple design, which makes it easy for them to accept payments quickly and easily. Additionally, Stripe offers flexible funding options, including credit card, bank account transfer, and ACH transfers.
DSSR Payment Solutions – Best POS Payment Solutions
DSSR Payment Solutions is a leading provider of POS payments solutions for small businesses. With a focus on innovation and customer service, DSSR offers its customers the flexibility they need to run their business anywhere in the world. These payment solutions are available to help businesses with everything from basic day-to-day operations to managing complex business processes.
The main advantage of DSSR's POS payments solution is that it allows you to easily integrate with other systems, whether it be accounting software or order management software. This helps small businesses streamline their business processes and save time, which ultimately helps them grow their business. Additionally, DSSR has an emphasis on security and compliance with its clients' financial transactions.
One of the most popular features of DSSR's POS payments system is its digital receipt printer, which gives your customers a paperless receipt option. This digital receipt printer can be used in any type of store – café or restaurant – as well as with inventory management software to reduce error rates and improve productivity.
To learn more about how DSSR's POS payments system can help your small business succeed, contact our team at +1 (833)377-7010 today!
Authorize.net
Authorize.net is a powerful and efficient payment solution that you should consider for your small business. It's easy to use, has excellent customer service, and allows merchants to accept credit cards and checks.
Intuit QuickBooks POS
Intuit QuickBooks POS is the most popular payments solution for small business accounting. This software helps businesses manage all of their financial transactions and records, including payroll, invoicing, expenses, and more.
Conclusion
POS payment systems are a must-have for any small business that wants to compete with larger companies. The main problem with POS payments systems, however, is finding the right one. There are many different types of POS payments systems you can choose from, but it can be hard to know which one to choose.
The best solution is to find a POS payments system that is made for your business. Here are the 6 POS payment systems for small businesses.